The "duo collages" of Hans Arp and Sophie Taeuber (Dada artists from Zurich):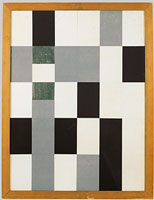 "In 1918, the pair produced in collaboration a group of "duo-collages", which stand among the first rigorous grids in the history of twentieth-century art, preceding by several months even Piet Mondrian's experiment with the form. Arp's description of the process of making duo-collages stesses the artists' pursuit of a mechanical impersonality... The grid itself further minimized the subjective choice of the artist, creating instead a model of the artist as a restricted actor within a variable system."
The pair's embroidery work also comes to mind:
Intentional use of a low-brow or "craft" art form as a fine art medium. Embroidery was about as "fine art" then as pixel art is today.
Naturally, Mondrian comes to mind as well. "Broadway Boogie Woogie" shown here:
As far as ancient art goes, mosaic is probably the closest they came (other than woven textiles I guess):
Lacks the grid, but still retains aspects of pixelart (working in small units typically of a single color, meant to read illusionistically at a distance).
Then of course there's contemporary work that's directly influenced by pixel art. Such as the video game-inspired "I Am 8-Bit" shows, and the graffiti artist Space Invader. Borderline fine art though.


Edited by cure - 19 February 2012 at 12:27pm