Lil dudes! Lil dudes! Lil dudes! Lil dudes!
Lil dudes!
This place needs more of them. Why there's
only
400 of them. I say we all start making more of them.
I just now made 40, that's 1/10th of the total lil dudes population. Here have a look...
lil house on the prairie.

lil paranoid.

lil freaky.

lil cheshire cat.
lil ninja.
It's just a lil flesh wound I can still fight.
lil prankster.
lil batty.

lil emo.
lil Caesars, pizza pizza.

lil slow(poke) eh?
Just a lil faceoff.

lil dipper.
lil Big Horn.

Stewart lil.

lil Big Daddy.
Big trouble in lil China.

lil Atari dude.
lil cyborg badass.

lil know it all.
lil greedy.

lil Captain Inverse Universe.

lil Rayman.
lil mime... trapped inside a real glass box! Someone wanna let him out?

lil mermaid.
Tra~ns~for~mers ro~bots in dis~guise...

lil sleepy.
lil nerdy.
lil Nightmare.
lil... oh snap! Leftovers from the recent rabid hungry bug rampage.
lil cyclops.

lil tiger.

lil invisible dude.
lil crazy.
lil pumpkin.
lil horsey.

lil sober.

ZOMG, it's just a default lil dude.... but now with a lil hat!

lil buggy, for Jalonso's 'bug category' should there ever be one.
And now...
Finally...
My pixelween entry...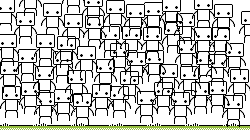 Invastion of the lil dudes!
...
...
...
...
Have no fear, I'm not really fond of lil dudes myself, so
these won't be going into the gallery
. I just made them to shake things up for Halloween. You know, to give some of you out there a heart attack... or two.
So consider this both my trick and my treat for this Halloween, have fun out there and stay safe.
Happy Halloween everyone!