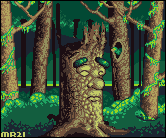 As promised, an explanation of what I`ve changed from your latest to my edit.
Colours and Contrast:
To start, how I always start EVEN IF the colours look pretty okay, I shift the hues further. Take that yellowish highlight on his face and make it a bit warmer. Take the reds, make èm redder. Shadows a lil bit darker.
Taking another look, I think I made your greens bad. They were muuch better before I touched em. The rest of it, though, I think the changes I made help the piece out more than they hurt it.
Structural and rendering issues:
This was the next step, as it is easily the biggest issue I`ve got with this piece, so far. Your tree has an AWESOME Face (You`ll notice I didn`t touch it at all :O) but the rest of the tree is... meh. It looks kind of flat.
...which is fixed by changing the shading and adding some bounced light (everything that catches light reflects it, so you`ll get the secondary lighting if there are other objects kicking around that can bounce light)
Next up was the roots. They all come toward the viewer, and they all are... more or less there for the sake of being there. Tree roots tend to go randomly in all directions and usually give a sense of balance to the tree. I changed your roots up a bit to try and give it that sense of balance. What I did could certainly be improved upon, but that`s for you to figure out.
Thirdly, his head didn`t make any sense. At first glance, I thought it was supporting a canopy (of leaves), but a closer look revealed that you want it to look kinda broken off. What I tried to do to fix this was to make the break-off more believable. Take a look at some pictures of trees, or remember if youve chopped down trees yourself. Trees don`t break off on a level plane unless they`ve been hacked through with a chainsaw. I tried to make some axe-cuts and a kind of ripped-off point, but what I`ve done can DEFINITELY be improved upon. And changed completely.
I think that`s enough, for now :D
Good luck, I look forward to updates!